Hawkins Projects were awarded the contract at Sylvan Court as part of a sheltered housing scheme to fabricate a steel frame
for the house builds and the steel balconies to attach to them
Working from the architect and engineers plans Hawkins Steel produced a 3D drawing model in Tekla, using this all curves and
fabrication details were produced.
The steel frame and balconies were fabricated in our Oxfordshire workshop, the balconies were then fully welded and hot dip
galvanized.
All steel work was then taken to site and installed as per the contractor's construction plan. The installation was carried out
using crane contract lifts by our in house installation team.
Summary
Client: Drew Smith
Duration: 8 Weeks
Contract Value: £156,000
Location: Sarisbury Green, Fareham
Download PDF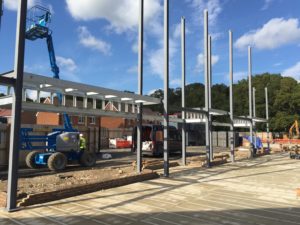 Kindly go to the settings page and check the option "Place them manually"