Hawkins Steel Ltd were employed to detail, fabricate and erect a new mild steel structural steel frame, with new cold rolled purlins and
cladding rails, for a new extension to a medical manufacturing facility in the Cotswolds.
From structural calculations supplied by our client; The Hawkins design team surveyed the site and produced 3D general arrangement
drawings and fabrication drawings to the client for approval. Before installing, careful consideration had to be taken to ensure production
was still able to continue throughout the new build process.
The steel was fabricated to comply with the standards of BS EN 1090 CE Marked steel and was fabricated to Execution Class 2. Hawkins
Steel Ltd were also responsible for installing the roofing and cladding with Kingspan KS1000RW 80mm composite roofing sheets and
100mm KS1000 Optimo composite cladding.
Summary
Client: Inside Out Developments
Duration: 8 Weeks
Contract Value: £75,850
Location: Chipping Norton
Download PDF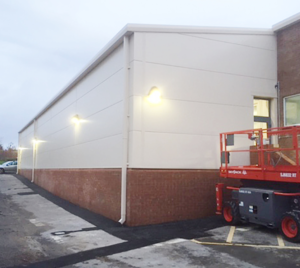 Kindly go to the settings page and check the option "Place them manually"