Hawkins Roofing Ltd were awarded the contract with Trident Business Consultancy to overcome major issues with the roof covering over Weston Favell Shopping Centre. Over the years many attempts to stop the roof leaking by other contractors resulted in a multi-layered roof make up consisting of felt, liquid applied and EPDM roof membrane, all proving inadequate.
The work undertaken by Hawkins Roofing included:
Stripping out the existing gutter system and installing 254 linear meters of new Factra gutter system in 3 locations.
Removing the redundant plant upstands, stripping out of damaged insulation and replacing the entire roof make-up complete with new insulation and Firestone EPDM roof membrane.
Removing 2 redundant large heater units and overlaying new roof covering including all flashing requirements around existing air conditioning units and new gutter system.
Producing and installing 175 meters of 7 goosewing grey leathergrain capping flashings and cladding panels to the parapet wall.
Summary
Client: Trident Business Consultancy
Duration: 3 Months
Contract Value: £264,000
Location: Northampton
Download PDF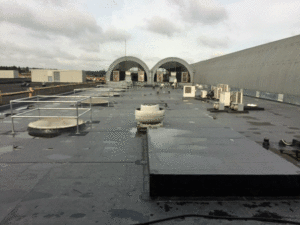 Kindly go to the settings page and check the option "Place them manually"